Nicki neither confirmed nor denied the accusations.
Here's 15 Of Nicki Minaj's Most Flawless Butt Photos for you to decide.
Nicki Minaj's butt is fierce. There are copious rumors of butt implants and questions about the authenticity of the junk in Her Minajesty's trunk. Real or not, that thing basically has its own GPS coordinates and she is always happy to show it off with a plethora of butt photos selfies on her IG. She isn't ashamed of her curves and owns them, taking every opportunity to show 'em off. Why hide her, um, assets?
With her songs like  "Anaconda", as well as "Bang Bang," her high-profile collabo with Ariana Grande and Jessie J, and her appearance on Beyoncé's remix of "Flawless," Minaj is becoming pop music icon.
That said, Nicki Minaj, who I'd totally want to see create a leggings line, is backing that thang up once again. Expect her Instagram to be flooded with even more photos of her badonkadonk — butt selfies, those taken by someone else, and professional shots — as seen her promotional mode for The Pink Print, as well as her next album that's due out this year.
These are Her Minajesty's best, fiercest butt pics and butt selfies of 2021 be it new IG pic or a TBT or an FBF. This, ladies, is how you pose when you are blessed from the back. Embrace those curves, girls. Got 'em? Flaunt 'em!
1. Unless You Got Buns Hun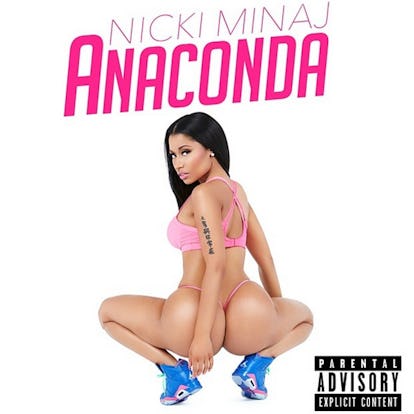 While wearing a dental floss thong in her fava color, Minaj shows us how her booty is perfectly shaped (and likely 'Shopped) on her new single cover. It's a mantra: When you've got it, flaunt it. I would and Nicki Minaj does and should.
2. Sidebum!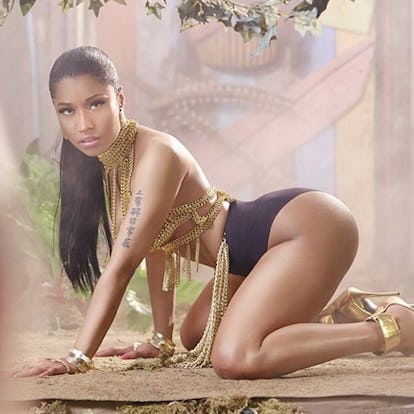 Sidebum is also a thing and Minaj demonstrates it aptly, while blinged out and draped in chains.
3. Hot Secretary Style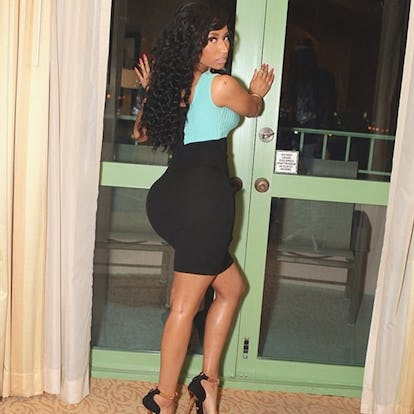 Minaj's pencil skirt looks painted on and she gives off the sultry secretary vibe, reminding us that being hot isn't always about how much skin you show, but about how much confidence you display and put forth. It's being comfortable in your own skin and with your body, which Minaj clearly is.
4. Cheeky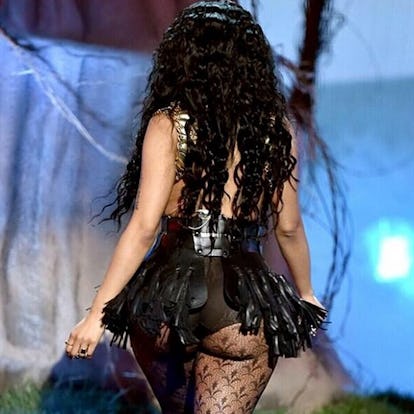 Here's Miss Minaj and her butt, being all sorts of cheeky. Her butt is mostly covered and she is wearing pantyhose with print, so she's never vulgar and always fashionable when shaking her rump.
5. Clingy And Curvy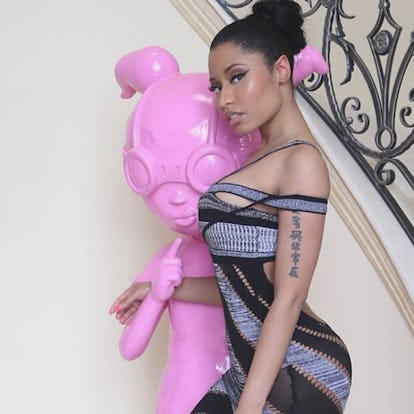 The clingy dress and slicked-back bun aren't crazy or outrageous. The overall presentation is toned down, actually, considering her former bright and crazy style. But she still plays up all of her attributes.
6. High-End Booty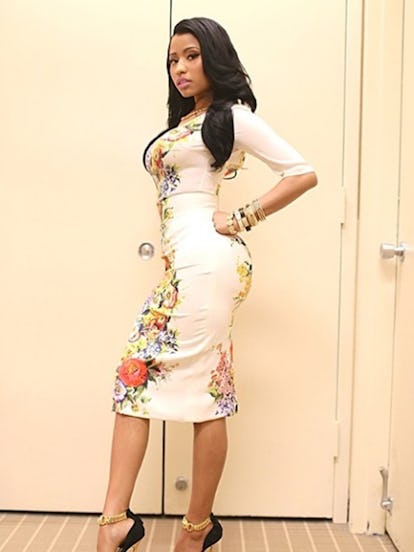 Minaj drapes her booty in floral, bone-colored Dolce & Gabbana here. She is classy and couture without trying to change her shape or hide it. #Lurve.
7. See-Through C
heekiness 
Here, Minaj and her black see through leggings show her cheekiness and all her curves
8. McQueen For The Rap Queen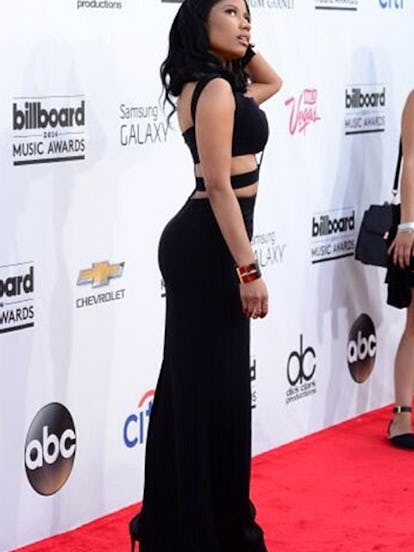 Minaj wears a simple but strappy black McQueen gown that doesn't mute or hide her curves.
9. Well, Hello There
Here's the fiercest booty in all the land.
10. Clingy In Cream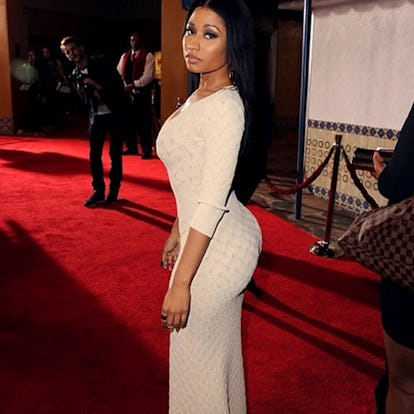 This clingy cream dress is perfectly suited for girls who want to proudly flaunt that coveted S-shaped figure.
11. More S-Shaped Amazingness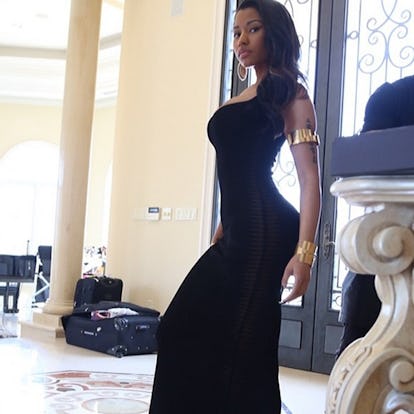 Minaj's black gown shows off her insanely enviable "S" shape. And yet again, Minaj exudes enough confidence to power a country.
12. Two-Fer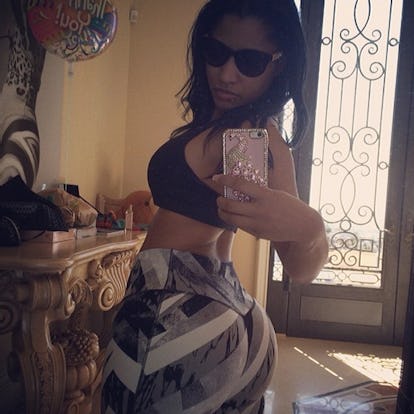 The rap vixen has mastered the art of twisting her body and positioning her hand to take a good butt selfie, since she has a ton of practice posing with a protruding butt.
13. On Her Side
The fabric shows a hint of skin and full side view. There is just enough visible skin to be hot without overdoing it. If you have tons of confidence, you, too, can do this look.
14. Bikini Butt
No makeup. By the water. Enjoying the sun. Loving her curves! If I had rock hard abs and a great butt like Minaj, I'd share my vacation-like pics, too.
15. Biker Butt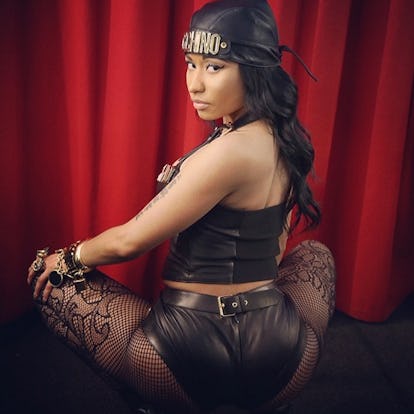 Clad in black leather by Moschino, this is Minaj's version of biker butt. I can already see her speeding past all the dudes on their motorcycles.

Final Thoughts
Is Nicki Minaj's Butt Fake? Squats or Shots!
Who knows, but we do know Nicki Minaj breaks the internet every time she posts booty-ful pictures. Nicki's uncanny butt size becomes the center of attraction in the eyes of her 200+ million followers. We must say, Onika Tanya Maraj-Petty the 40 year old pop star enjoys flaunting her killer curves. Nicki Minaj's aka Barbie (@nickiminaj)