DO ANTI-CELLULITE LEGGINGS WORK? 
This post answers the question: Do anti-cellulite leggings work? 
Here's what you need to know about this trending cellulite solution. When it comes to the beauty industry, there's always some new and revolutionary product on the market promising miracles.
Anti-cellulite leggings are one such example. While it sounds amazing that a cute pair of leggings could smooth away lumps and bumps, perhaps it's a bit too good to be true.
We ask: Is there any truth to anti-cellulite leggings – or is it just another fad? Here's what you need to know!
Different Types of Anti-Cellulite Leggings
There's a variety of so-called cellulite reducing leggings on the market. And although they work in different ways, they promise the same result – smooth and cellulite-free legs.
Here are 4 different types of anti-cellulite leggings you might run across:
Textured massage leggings
Textured massage leggings are made from a special fabric that's believed to massage the skin and stimulate blood circulation. This results in the reduction of the appearance of cellulite on the skin.
However, deep tissue massage is the best way to reduce cellulite. It's unlikely that textured leggings can provide a significant enough massage to alter the look of cellulite.
That said, the textured appearance can be good at concealing more prominent cellulite on the skin. So although they can't completely remove cellulite as promised, they can still serve the purpose of hiding cellulite.
Compression leggings
Another type of garment that promises increased circulation is compression leggings. They also claim to reduce water retention in the legs through compression technology.
Unlike textured massage leggings, there's some data to back up these claims. For example, compression hosiery has already been established as an aid for people with lymphatic issues.
A recent study has shown the efficacy of compression leggings in reducing the appearance of cellulite. The study took place over three months and showed a progressive improvement in the appearance of cellulite around the thigh and glute area of participants.
Scientifically speaking, these leggings may be worth a shot if you want to minimize cellulite.
However, be sure to look for graduated compression garments which aid with blood and lymph flow. Full compression garments can have the opposite effect and constrict circulation.
Leggings that contain cosmetic ingredients
Imagine combining the power of skincare products with the compression power of leggings. Seems like the ultimate remedy for cellulite, doesn't it?
Indeed, there are leggings with cosmetic ingredients like retinol or caffeine infused into the fabric. And if you're worried about the active ingredients coming off in the laundry, these leggings are specially designed to withstand washing.
Admittedly, some of these cosmetic ingredients (such as caffeine) are known to tighten the skin and reduce water retention. This can diminish the appearance of cellulite on the surface of the skin.
However, you can get the same benefit from applying a body cream or oil that contains these ingredients directly onto your skin.
Sauna pants and sweat leggings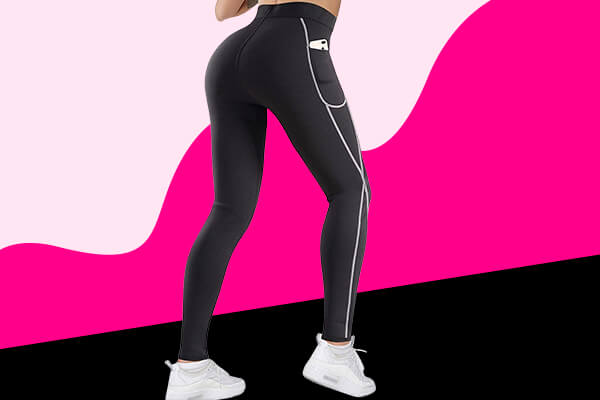 You know how sweat lodges promise to clean your pores and improve circulation through heat therapy? Well, sweat leggings work in the same way.
Sauna pants or sweat leggings are made out of neoprene or another unbreathable material designed to make you sweat and in turn, burn fat.
Sweat leggings help in reducing water retention (which is one of the causes of cellulite) and can give you a temporary slimming effect. Plus, just like sauna pants, the extra sweating can also help boost metabolism.
This may have positive effects but the downside is how uncomfortable you might feel. The material is thick and unbreathable, which means you'll be sweating a lot and might find it difficult to move freely.
The Best Leggings That Hide Cellulite
When you consider the factors that cause cellulite, it's easy to see why anti-cellulite leggings aren't a reliable way to reduce cellulite.
However, that doesn't mean that leggings don't have their place. Leggings can be effective at concealing cellulite and smoothing out those lumps and bumps.
Here are the best leggings that hide cellulite:
Textured leggings
Honeycomb textured leggings (as made famous by TikTok) aren't going to remove your cellulite, but they can help you hide it.
These very flattering leggings will conceal any dimples in your glute region, and will also give you that 'snatched look' by cinching the waist and lifting the butt.
Printed leggings
The premise behind printed leggings is simple: Use fun patterns and prints to draw the eye away from dimples.
For maximum cellulite hiding effects, choose leggings with darker colored prints and/or thicker fabrics.
Smoothing leggings
Just like shapewear, leggings made of strong stretch materials like Spanx have a sculpting effect that is ideal for smoothing out the skin.
If you want some extra cellulite concealing power, opt for darker colors like black or grey which will further hide your skin dimples.
Our Verdict
Leggings that make you look and feel sexy are a wardrobe must-have, especially when they can also effectively conceal skin irregularities. However, it's far-fetched and futile to rely on them for getting rid of cellulite.
Instead, your energy is better spent on more reliable, effective ways of reducing cellulite such as diet, exercise, and an effective cellulite-fighting skincare routine.